The Corrine Mackenzie Dance School
We have members from all over the area in and around Ullapool, Achiltibuie and Coigach, Dundonnell and more. The dance school currently has over 50 members aged between 4 and 16. Members learn and practice as a band and as solo performers.
Highland Dancers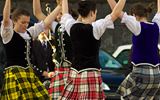 Like the band, the dancers perform together as a group and also individually.
Also like the band, members are encouraged to give time and effort to something that requires skills but is very rewarding.
Dancing Skills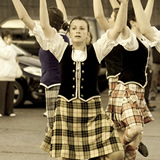 Highland dancing has a long history and recounts many stories and tales from the Highlands and Ireland. The dancing group was founded by Corrine MacKenzie who was a former dancer herself, and benefits from the teaching of Hollie McNicol a former dance pupil who competed at a high level and is currently working towards her teachers qualification.

Classes are run 3 days per week, after school in the drill hall and are run throughout the year. As well as performing weekly with the pipe band during the summer months, pupils also compete in various competitions throughout the year. In a break away from tradition, we also do "Highland with a twist" which is Highland dancing choreographed to modern music and the group have performed at various events including our locally run Dance Festival and of course Loopallu! Highland Dancing is a great way to keep fit and have fun, if you are interested then all you need to have is determination and a willingness to learn!! For further information you can contact either Hollie on 07909602927 or email holliegael@hotmail.co.uk or Corrine on cmrsmack@btinternet.com.
Dancing requires practice and concentration but is extremely rewarding and fun and many of the dancers form a life long passion for the art - many of our teachers and instructors are former dancers than began with the band.
Like the band, our dancers perform weekly throughout the summer months and also take part in competitions and events all over the country.
Interested in becoming a dancer or supporting us, click here.